Our practice focuses not just on getting you out of pain, but also correcting the cause of the problem! With our focus on the correction, there is a much less chance for your condition to relapse. Unlike conventional medicine, which focuses on attempting to treat disease once it occurs, Pembroke Chiropractic emphasizes improving your health in an effort to reduce the risk of pain and illness in the first place. Most people would rather be healthy and avoid illness, if they could. This is one of the main reasons for the big surge in the popularity of our wellness center.
Our care has been very successful in helping patients like yourself with a variety of conditions from chronic low back and neck pain, headaches, migraines, sciatica, slipped discs, pregnancy issues, carpal tunnel syndrome, fibromyalgia, auto, work and sport injuries as well. We can also provide information about improving your diet, creating a healthier workplace, and increasing the overall quality of your health.
We work with people of ALL ages from the new born to the young at heart. Here is what a few of our patients had to say:
Pembroke Chiropractic has been helping member of the community just like you since 1992! Call our office and find out for yourself how our personalized care can help you to start feeling better again!
Mark Soccio, DC, LCP
Dr. Mark graduated from the Los Angeles College of Chiropractic in 1990 and have been practicing in Virginia Beach at the same location since 1992. He received his Acupuncture Certification in 1998 from Logan College of Chiropractic. He then went on to Palmer College of Chiropractic in 2003 and received the prestigeous Legion Of Chiropractic Philosophers Degree.
An amazing thing happened to me one day when I was working in a supermarket. One night I was helping to unload a truck that had just come in. As I turned away to carry some stock out to the floor, a pallet of bleach came crashing down and struck me on the head, my neck and back. I wasn't knocked unconscious, but I was really dazed and confused. Not wanting to make a big deal out of the situation, I quickly bounced back up, brushed myself off and got back to work. But as the night progress, I began to experience a great deal of discomfort in my neck and back. Still not wanting to make a big deal of it, I just took a couple aspirins.
I got home late that night and was really feeling sore and stiff, so I figured a hot shower would loosen things up and a good night sleep and I will be all better in the morning. Well when I woke up the next morning the pain was unbearable and I could no longer pull my macho ego about not being in pain.
My mother called our family doctor and drove me up to his office. The doctor sat across from me, behind his desk and told me what was wrong with me with out ever touching me. As I sat there in his office, something really strange occurred to me. Here was a person that my family trusted with their health and on his desk was an ashtray full of cigarette butts, and a tall 7-eleven coffee. As I left with his recommended prescriptions, I thought something's not right with this picture.
After a few weeks of taking drugs and several other "Special" doctors who gave me stronger drugs, that did nothing more then mask the symptoms, at best, a friend of mine literally dragged me into see her chiropractor, Dr. Larry Johnson. My experience was so profound, that it changed my life forever. Not only did I feel better quickly with regards to the injuries from my accident, but I noticed that my allergies got better, I stopped going for allergy shot, (which I was getting two a week for 15 years) and I stopped getting bronchitis every year!
I was already a licensed Aircraft Mechanic working at a small airfield on Long Island and also working at Key Food Stores stocking shelves. I was also going to college part-time so that I could learn more about aviation electronics but when I discovered just how powerful and life-changing Chiropractic had been for me, I quit my job at the airport and the supermarket and went back to school to become a Chiropractor!
Holly Hickson, Chiropractic Tech
Holly has been part of our team since 2003! She welcomes all of your questions and concerns regarding your appointment scheduling and your insurance coverage. If you don't have insurance that covers Chiropractic, don't worry, Holly can help you work out a payment plan that will fit your budget! Holly is wonderful with all of the kids in our office, so bring them too.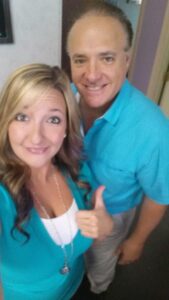 Massage Therapy, Amber Cutrone, LMT.
Amber graduated summa cum laude from Centura College in Virginia Beach in October 2011. Since graduating, she has worked in Leavenworth, KS and Virginia Beach, VA.
"My passion for helping people started from a young age. At 9, I would massage my parents shoulders when they seemed stressed, in pain, or just to show my love. Helping them feel better brought me great joy! It was then that my passion for massage therapy began. At 21, I pursued schooling and on my very first day, I knew this was the career for me.
After school, I moved to Leavenworth, Kansas. I found this beautiful day spa and salon, Bella Vita. I was privileged to call it home just shy of 3 years. I learned so much working with people from all walks of life. Everyone deserved my best attention, and in return, I excelled at the spa.
Life brought me back to Virginia Beach at the end of 2014. I began working at Massageluxe in July 2015. Within a year, I was the top requested female therapist! I continued to work hard and was awarded Employee of the Year for 2016! That was truly an honor!
I have been seeing Dr Mark since April 2016. He helped me with chronic headaches and acid reflux that I've suffered from for as long as I can remember. Two years later, I am blessed to say they are under control! I started working with the Dream Team this April. I truly believe massage and chiropractic go hand in hand! Bones are slave to the muscle but your muscles cannot function properly if the nerves can't communicate to them."